---
"We Stand Alone"
---
"Season 9: Proving Grounds" featuring Road Warrior Animal
---
"In The Crosshairs" featuring Sean Carr:
---
"Passion, Courage, Conviction" featuring Jesse Neal:
---
Coronation Cup 2015 is now avaiable online:
---
Here's the results from "Malicious Intent"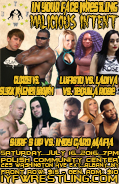 ---
It's raining, but Ryan Rogan is looking forward to his New Breed Title Match
---
Garrett Holiday on his New Breed Title Match
---
Sean Jacobs gets us up to date with the latest edition of IYFW INTERFACE:


Stream the INTERFACE audio report or download it directly.
---
An announcement from Senior VP of Talent and Operations Aubrey St. John
---
Matches announced for "Malicious Intent" on July 16, 2016:
Cloudy vs. Slyck Wagner Brown
Surf's Up challenges Indy Card Mafia for the Tag Team Titles
LuFisto vs. LaDiva vs. Tequila Rose
Trip vs. Lenn Oddity
Garrett Holiday vs. Mystify vs. New Breed Champion "Vagabond" Ryan Rogan
Cassius Cutcher vs. Liam McFerrin
Wrecking Ball Legursky in a 3-on-1 challenge
Plus a special pre-show match!
---
Congratulations to Cassius Cutcher, the winner of the Coronation Cup 2016 Tournament. The complete results are online now.