Rumor Control for August 2, 2008
The name is H.C. Loc!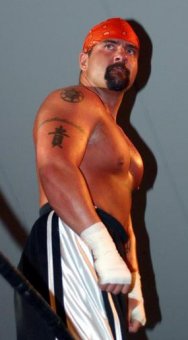 Credentials:

Wrestled as "The Extreme Official" for the original ECW and appeared on many PPV's.
Held the coveted Ring of Honor World Tag Team Championship with Tony DeVito in The Carnage Crew and faced many of the top talent in Professional Wrestling today.
He is the man Joey Eastman has hired to come and take care of Maxx Burton. Eastman said it would be someone from Burton's past that he has never wrestled before, and H.C. Loc falls into that category. Loc was once a friend and mentor to Burton, but their friendship ended abruptly over 5 years ago and they have not talked to each other since. We are not sure why Eastman has chosen Loc, and what does Loc get if he gets the job done? We hope to get comments from Maxx Burton concerning this turn of events soon.

Previous Report - News & Rumors Home - Next Report
Sponsors:
Carbone & Carbone LLP
Attorneys At Law
518-283-1245
www.carbonelawyer.com
---