Rumor Control for September 21, 2009
Interview with BARBIE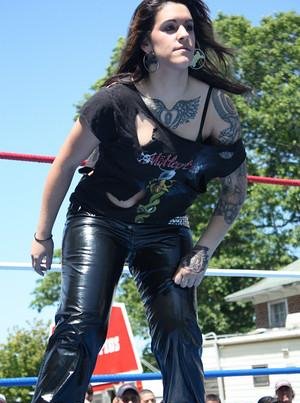 BARBIE is a lovely, tough as nails, accomplished young lady wrestler/manager from the New York area that will be making her debut in IYFW on Oct. 10th at "Season 3: Rising Spirits Of Madness!" In conjunction w/ the Insane Plan Wrestling website & it's owner/webmaster John Mikels, Barbie was interview this past week for the IP website. Here is what she had to say about her career thus far, her influences & her thought about coming to IYFW!
---
JM: How did you get started in the business?
B: Totally went to a local indie show 6 years ago and fell in love with the art of Pro Wrestling! Was expecting to go and get a few laughs thinking it was backyard in a ring...but turned out to be a professional company in turn made me chase the promoter down and ask how I can start my training...

JM: Who trained you and what did you learn from them?
B: I have had the opportunity of working with various professionals in the business that have had much success in the business today including Japan, WWE, and TNA. Too many to name... What I have learned is RESPECT for the Squared Circle, Discipline, Hard Work gets you far. Everyone I have had the opportunity to train with has taught me so many different things from one person to the next...Every different trainer teaches you something new and a different way of things...With pro-wrestling you can be doing this and training for years and still learn something new everyday!

JM: Who were your biggest influences for wanting to get into the wrestling business?
B: I always looked up to Sensational Sherrie Martel. If you see pics of me when i first started I use to do my glitter makeup like hers!!!

JM: Who's your Toughest Opponent?
B: Any opponent I'm across from is tough in their own way.

JM: What are some of the feds you worked in?
B: Just to name a few...I've worked with Top Rope Promotions, ECCW, NWS, NWW, WWW, WSU, NEW, SAW, NWA-upstate, NWA-Capital, ADK, and thats all I can ramble off the top of my head for now...

JM: What is it like being a woman on the indies?
B: NOT EASY!

JM: Now, Slam All star wrestling is a fed I admire, what is it like working there?
B: Friendly-Everyone makes you feel like family.... Great people there.

JM: How are you feeling about your debut in IYFW? What will your role be within the company?
B: Im pretty excited to debut at IYFW! Its a company that is close to my Home area!!! So that's awesome!! Not sure about my role thus far with them... But, I always strive to do my best anywhere I go!!!

JM: I have heard you met some big names from TNA, Which stars from TNA & what they are like?
B: Oh Lordy... Too many to name here!!! Everyone I have met from that company has been nothing but Respectable and friendly. All VERY PROFESSIONAL, Just the way everyone really should be in this business. But you come across not so many professional people in the business, but-that's life... ;)

JM: Word Association:
| | |
| --- | --- |
| Maxx "The Ax" Burton | Motorcycle |
JM: Any advice for fans who want to follow their dreams of becoming a professional wrestler?
B: Patience and hard work...And if your looking for quick fame and quick money...Might want to consider something else.
JM: Closing thoughts?
B: Nah..... ;)
Previous Report - News & Rumors Home - Next Report