Rumor Control for August 24, 2011
In The New: How IYFW is changing
by William Bacon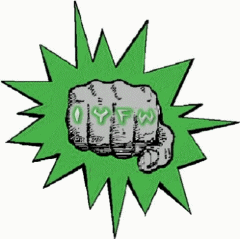 Ring out the old; ring in the new. Usually you only hear this phrase around New Year's, but now it is the motto of In Your Face Wrestling. Fans are not unaccustomed to changes in the popular wrestling federation. The fans have seen numerous changes in venues, wrestlers and commissioners. This latest change is different; the new changes may well impact the face of IYFW and its future.
One of the newer changes is to the IYFW logo itself. No longer a fist with initials on the knuckles, it is now a more traditional wrestling symbol surrounded by the initials IYFW. "This change itself should make an important impact on how we are perceived," says Eric Barneys, Head of the In Your Face Wrestling Public Relations. "The old symbol was great, but it presented IYFW as a brawling, family unfriendly federation. This new symbol conveys to the audience what we really are, an organization dedicated to wrestling."
In Your Face Wrestling will now branch out more into merchandising says Henry Parsons, Head of IYFW Merchandising Division. "It is our duty now to give to the fans the products they want, and also at the same time to promote the federation. It will be an exciting time, with new IYFW products coming out during the next year." What kind of products can we expect from IYFW? Although he could not be specific in details, but Parsons did hint about some of the upcoming products. More shirts, posters and even wrestlers actions figures maybe available very soon to the fans.
Previous Report - News & Rumors Home - Next Report
Sponsors:
Carbone & Carbone LLP
Attorneys At Law
518-283-1245
www.carbonelawyer.com
---