Rumor Control for February 12, 2016
From the Desk of Yvonna Leach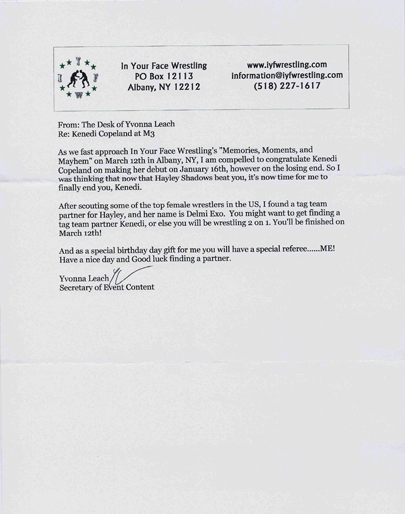 As we fast approach In Your Face Wrestling's "Memories, Moments, and Mayhem" on March 12th in Albany, NY, I am compelled to congratulate Kenedi Copeland on making her debut on January 16th, however on the losing end. So I was thinking that now that Hayley Shadows beat you, its now time for me to finally end you, Kenedi.
After scouting some of the top female wrestlers in the US, I found a tag team partner for Hayley, and her name is Delmi Exo. You might want to get finding a tag team partner Kenedi, or else you will be wrestling 2 on 1. You'll be finished on March 12th!
And as a special birthday day gift for me you will have a special referee...... ME! Have a nice day and Good luck finding a partner.
Yvonna Leach
Secretary of Event Content
Previous Report - News & Rumors Home - Next Report
Sponsors:
Carbone & Carbone LLP
Attorneys At Law
518-283-1245
www.carbonelawyer.com
---