Results for October 10, 2009 - Season 3: Rising Spirits Of Madness!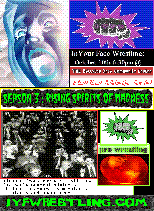 "Pimp Daddy" Vigo won the In Your Face Halloween Rumble

Good Lord Willing defeated C.J. Scott thanks to a distraction from "The Axis"

"The Shaft" Bobby Ocean and "Big in Japan" Bobby Fish went to a 15 minute time limit draw. The audience applauded both menís efforts and called for 5 more minutes. Officials would not allow it. Shaft and Fish shook hands, but Shaft nailed Bobby Fish from behind and walked off.

Lieutenant's Match: The Northern Studd beat Vigo by disqualification Vigo got caught holding a chain that Studd brought into the match. This win gave Fronz Roddy the right to name the stipulation in the main event. He chose a Last Man Standing match where you pin your opponent and then they must answer a 10 count.

The Northern Studd, boastful of victory over Vigo, inquired to ring announcer Pandora Brew to be his new valet. This did not hold well with Pandora/Alexzandraís husband, Maxx "The Ax" Burton, who made his presence known. Studd and Burton brawled until Studd ran off.

Elimination Match of Survival: Pierre "The Beast" Vachon, Scott Reed and Jamar "Magic" Justice defeated Guillaume DeSade, Ian Daniels and War.
Guillaume DeSade pinned Jamar Justice
War pinned Scott Reed
Pierre Vachon pinned War
Pierre Vachon pinned Ian Daniels
Pierre Pinned Guillaume deSade, winning the match. Bobby Ocean & Guillume deSade attacked Pierre Vachon after the match. Ian Daniels then jumped in to leave Pierre Vachon laid out.

IYFW Tag Team Champion "Millennium Millionaire" Scott Scarsdale & Etanna defeated "Bombshell" Bert Williams with Barbie and Maxx "The Ax" Burton, when Scarsdale pinned Williams after "The Jackpot."

Last Man Standing Match for the In Your Face Champsionship: Drake Evans challenges "The Mighty" Fronz Roddy. Both men had trade pinfalls and 10 count attempts until Fronz had been choked out by Drake and pinned. While the referee was making a 10 count that saw Fronz not move by the count of 8, Scott Scarsdale & Good Lord Willing attacked the referee and Evans. Maxx Burton and Bert Williams came to save Drake and fought off The Axis. Drake and Fronz recovered to where Drake hit a german suplex that had both menís shoulders on the mat. A second referee counted both men down and the put the 10 count on both of them. Drake got to his feet 1 second before Fronz to win the match and the IYFW Championship.

In Your Face Wrestling thanks the Vermont and New York fans for all their continued support in this 2nd year of operation.
Previous Event - Back to Event Results - Next Event
Sponsors:
Carbone & Carbone LLP
Attorneys At Law
518-283-1245
www.carbonelawyer.com
---