Results for August 28, 2010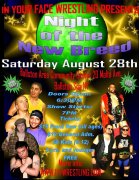 Poster by Julia Christopher
Before the event began, Pierre "The Beast" Vachon paid tribute to his late sister, Luna Vachon

Interim Commissioner, Maxx Burton, came out to address some changes to the card that he was going to make due to Alexzandra not being able to be at the event.

Liam McFerran and Drake Evans (replacing Good Lord Willing) beat Scott Scarsdale and Ian Daniels

Scott Scarsdale then addressed the crowd to say he was still a tag team expert since he did not lose. But he would show that he is also a Battle Royal expert by winning the IYFW Rumble, and would go in as the first entrant.

Vigo beat WAR with the "Hostile Takeover"

In Your Face Wrestling New Breed Championship Gauntlet Match:
Jamar "Magic" Justice defeated "Loverboy" Ricky Williams with a rollup. Both men showed respect to each other after but, while Justice was distracted, Adam Badger quickly pinned Justice with a hook of the tights.
Adam Badger beat Shiloh Robinson with a twisting Stunner.
"The Pillar" Roman Dominguez forced Adam Badger to submit with the "Arch of Constantine" to win the New Breed Championship

Superbeast beat "The Shamrocker" Michael McKinger

"The Shaft" Bobby Ocean defeated "Handsome" Rob Scalisi with a DVD

The International Ego Trip:Fronz Roddy & The Northern Studd, put out an open challenge to any tag team to take them on in a non-title match. The Green Mountain Grapplers came out to accept. The champions did not take the challenge seriously, but they should have since The Grapplers beat the I.E.T. in this match. The Grapplers then unmasked to reveal themselves to be "Loverboy" Ricky Williams and Jamar "Magic" Justice.

"The Modern Day Marquis" Guillaume deSade retained the In Your Face Wrestling Championship over Michael Monroe by choking Monroe out.

IYFW Rumble to name the #1 contender to the IYFW Championship: Vigo won the annual In Your Face Rumble by eliminating Scott Scarsdale, who lasted the entire match. Guillaume deSade attacked Vigo by choking him with a noose. Maxx Burton ran out to stop deSade, but only to announce that the main event of "Deception is Reality" will now be a Hangman's Noose Match.
IYFW Thanks the great, loud and rowdy fans for coming out to "Night of the New Breed!"

Previous Event - Back to Event Results - Next Event
Sponsors:
Carbone & Carbone LLP
Attorneys At Law
518-283-1245
www.carbonelawyer.com
---