Results for Coronation Cup 2013: September 21, 2013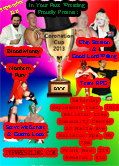 The event started with the former Minister of Wrestling Operations, Maxx Burton, being introduced as the interim commissioner of the evening.
Jamar "Magic" Justice, Elite Terrell and Nocturne defeated Etanna and Ronnie Ribs in a handicap tag match. After the match, Pierre Vachon, who was scheduled to be in this match, showed up and took out Elite. Pierre stated he was too good to be in the opening match and opted not to participate. Maxx Burton came out to inform Vachon that Elite now wanted to wrestle him one-on-one and Pierre would have to or he would be fired due to breaching his contract.

Northern Fury: Vigo & Sgt Fury, won the first Triple Threat Elimination match in the Coronation Cup Tournament by beating The Stormtroopers of Death: Bad Guy 1 and Bad Guy 2, and Team R.P.G.: Ian Daniels and The Rickety Rocket

Liam McFerran retained the IYFW New Breed title over Damon Ravage with "The Irish Lariat"

Blood Money: Scott Scarsdale & Ricky Williams, defeated The Electric Dream Machine: Steve McKenzie & Guerro Loco, and the team of Chip Stetson and Drake Evans. Chip announced that prior to the show, Blood Money attacked Good Lord Willing in the parking lot so he would not be able to wrestle. Chip asked Drake Evans to be his partner. Drake took himself out of the 4-Way for the Right to Fight Contract to do so. Chip then tuned on Drake when Good Lord Willing arrived to reveal that it was not Blood Money that attacked him, it was in fact Stetson himself. Upon hearing this Stetson tuned on Drake, allowing Scarsdale to get the pin to win the match. Stetson then got on the mic and stated that he was a Legend and Drake had no right to call himself an Icon.

"The Pillar" Roman Dominguez won the 4-way Collision to gain the Right to Fight Contract by making Good Lord Willing tap to "The Suffoco" submission. This match also featured Guillaume deSade and The Northern Studd.

Pierre Vachon beat Elite Terrell. After the match, Vachon continued beating on Elite until The Northern Studd made the save.

Northern Fury won the 2013 Coronation Cup beating Blood Money. They are now the number one contenders to the IYFW Tag Team Championship.

"The Mighty" Fronz Roddy retained the IYFW Championship over "The Wolf" C.J. Scott in the match of the night.
In Your Face Wrestling is gearing up for it's anniversary show, "Season 7: Exit Wounds," on November 9th featuring former ECW World Champion Justin Credible. Thanks to the great fans of the Capital Region once again for a great night.

Previous Event - Back to Event Results - Next Event
Sponsors:
Carbone & Carbone LLP
Attorneys At Law
518-283-1245
www.carbonelawyer.com
---