Results for Coronation Cup 2009
June 20, 2009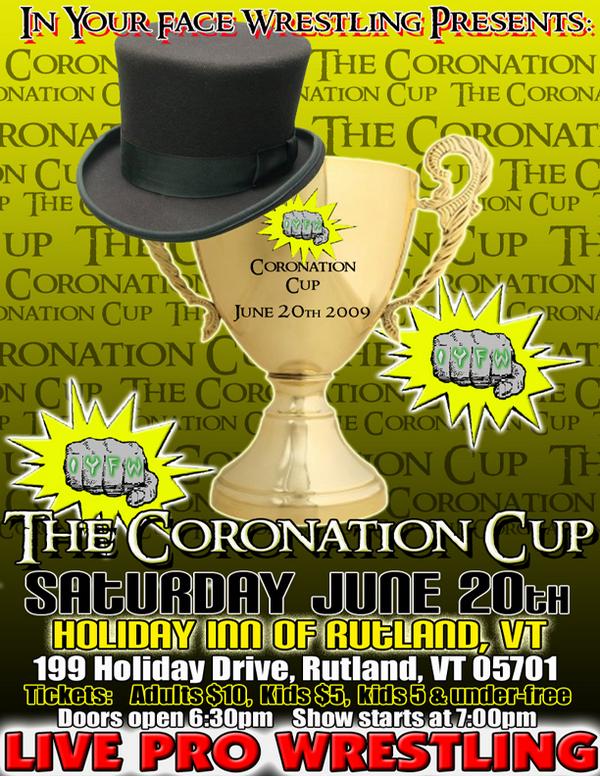 Poster by Arron "By Godd" Devil
"Millennium Millionaire" Scott Scarsdale & Al Jihad defeated "Loverboy" Ricky Williams and Chris Pyro (Pyro was replacing the injured Bert Williams)

The Northern Studd won the first 4-way Free-For-All match in the Coronation Cup tournament by pinning Myzery the Barbarian with a hook of the tights. This match also included Guillaume deSade and Vigo.

Maxx "The Ax" Burton welcomed back "Super Troll" Curtis Candy to the area and the crowd gave a warm reception for the former Hardcore King. Good Lord Willing and Viper appeared and beat down Burton. Candy, who hasn't wrestled in 5 years due to extreme concussion syndrome, saved Maxx but was later bashed in the head with a garbage can lid by Willing. The referees stopped any more of the attack and helped Curtis to the back.

C.J. Scott won the second 4-way Free-For-All match in the Coronation Cup tournament by pinning Ian Daniels after a Kryptonite Krunch. The Northern Studd jumped C.J. after the match, hitting his finisher and mock counting 3 himself. This match also included Payne the Hellraiser and Pierre "The Beast" Vachon who beat each other to the back.

World Class Women's Wrestling Match: the current NWA World Women's Champion and Shimmer Champion, MsChif beat Alexxus with the Desecrator after a grueling match. Both ladies exemplified true competitive spirit. MsChif was well received by the audience as she spent the entire intermission time signing autographs and saying hello to the fans. A great representative of the Shimmer promotion and product.

Maxx "The Ax" Burton and "Super Troll" Curtis Candy defeated Good Lord Willing and Viper when Curtis hit The Heartpunch on Willing for the pin.

C.J. Scott beat The Northern Studd in the finals of the Coronation Cup Tournament. C.J. has earned a title shot at IYFW's next show in Queensbury, NY on July 18th.

In the final match, Drake Evans challenged Fronz Roddy for the In Your Face Wrestling Championship. As the match continued, Fronz, frustrated by not being able to beat Evans, knocked referee Adam Brunton. Evans would hook the champion in a submission and Roddy would tap out, but there was no referee to see it. Scott Scarsdale and Al Jihad attacked Evans. Maxx Burton and Vigo made the save and ran off Jihad and Scarsdale. Roddy would recover and go for his finish, but Evans reversed it into another submission and Fronz tapped again. Referee Evan Fellows ran out and called for the bell, and announced Drake as the new champion, until senior official Al Scott made the call that Fellows was not assigned the match and waved off the tap out. Due to Roddy knocking out the assigned official, Al disqualified Fronz. Drake would win the match but not the title.
Next show is Saturday July 18th at the Adirondack Sports Complex in Queensbury, NY called "New Wave Assault!"

Previous Event - Back to Event Results - Next Event
Sponsors:
Carbone & Carbone LLP
Attorneys At Law
518-283-1245
www.carbonelawyer.com
---