Results for Defy The Odds
April 30, 2011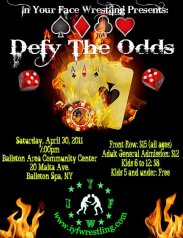 Poster by Julia Christopher
Shiloh Robinson defeated In Your Face Wrestling New Breed Champion "The Pillar" Roman Dominguez in a non-title match. This was Shiloh's first victory in IYFW. He has now earned a title shot.

Superbeast and Rocco Perrelli beat "The Wolf" C.J. Scott & Vigo. Pierre Vachon instigated himself in this match by grabbing Yvonna Leach, gaining Vigo's attention, leading to Superbeast knocking C.J. out for the win.

The new Management Representative Harold Toush'ole introduced himself. He took responsibility for no women's match on the show, stating he doesn't like women's wrestling. He also reiterated that Vigo and Vachon would never wrestle each other in IYFW. Plus he stated that Management is not happy with the actions of Guillaume deSade as IYFW Champion and that he would be watching the main event very closely.

"The Spectacular" Adam Badger and the returning "Mega Star" Michael Monroe defeated "Loverboy" Ricky Williams and Jamar "Magic" Justice when Badger pinned Justice.

Pierre Vachon lost to "The Shaft" Bobby Ocean by count out when Vigo got a receipt on Vachon by distracting him from the referee's count.

"Millennium Millionaire" Scott Scarsdale beat Vyper and Ian Daniels in a 3-way match.

The International Ego Trip: Fronz Roddy & The Northern Studd retained the IYFW Tag Team titles over The Celtic Crew: Liam McFerrin & Michael McKinger.

Guillaume deSade intentionally disqualified himself in his title defense against Drake Evans. Management Rep. Harold Toush'ole promptly stripped deSade of the title, declaring him unworthy to hold the title. DeSade then destroyed the IYFW title belt.
After a long break, the IYFW fans didn't go anywhere. They came out in droves to support the top Pro-Wrestling Promotion in Upstate NY. Next show is June 25th, 2011 at the Ballston Area Community Center in Ballston Spa, NY.

Previous Event - Back to Event Results - Next Event
Sponsors:
Carbone & Carbone LLP
Attorneys At Law
518-283-1245
www.carbonelawyer.com
---