Results for Summertime Bruise - August 13, 2011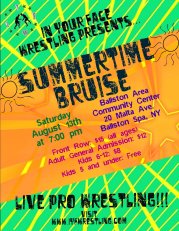 Poster by Julia Christopher
Hoss beat Punisher Van Slyck with a powerbomb

WAR & Vile beat The Uprising: "Loverboy" Ricky Williams & Shiloh Robinson thanks to a distraction from The Enemy.

Good Lord Willing defeated Ian Daniels under questionable circumstances

Pierre "The Beast" Vachon & "The Pillar" Roman Dominguez beat "The Shaft" Bobby Ocean & Drake Evans when Vachon used a Mandible Claw on Evans.

Liam McFerran w/Adrienne Blackhart beat "The Mighty" Fronz Roddy

The Killer Steves: Steve McKenzie & Steve Kruz won their match with In Your Face Wrestling Tag Team Champions The Enemy: Adam Badger & Michael Monroe by disqualification when the champions used the belts to knock the challengers out. The Uprising fought with The Enemy to the locker room after the match.

"The Force from the North" Vigo retained the IYFW Championship over "Millennium Millionaire" Scott Scarsdale via submission

Pierre "The Beast" Vachon won the IYFW Rumble to be the next number 1 contender to the IYFW title.
This makes the main event of October 1st Anniversary Show, "Season 5: Cauldron of Hate" the match management said would never happen:

In Your Face Wrestling Championship:
Pierre "The Beast" Vachon
challenges
"The Force from the North" Vigo

Thanks again to the great fans for making "Summertime Bruise" one of the most exciting shows this year.

Previous Event - Back to Event Results - Next Event
Sponsors:
Carbone & Carbone LLP
Attorneys At Law
518-283-1245
www.carbonelawyer.com
---