Results for Vengeful To The Core - September 8, 2012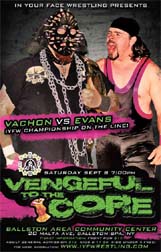 The show began with a heartfelt farewell from Michael Anthony who spoke of his career, and was moved to tears when many members of the roster came out to ringside to show their respect to him. Anthony thanked the fans and called In Your Face Wrestling the best wrestling promotion in the area. In Your Face Wrestling sends all it's best to Michael Anthony and thanks him for all his contributions to the promotion.

Superbeast and "Supercop" Dick Justice defeated Varisty Blues: Matt Milan and Jordan Lennox

"Loverboy" Ricky Willliams pinned Viper to win the 4-way Free-For-All for the No. 1 contendership to the IYFW New Breed title. This match also featured Good Lord Willing and Shiloh Robinson. The current IYFW New Breed Champion Liam McFerran, watched from ringside.

Barbie defeated Mistress Belmont

Vigo, Chip Stetson and J.P. Black beat "Millennium Millionaire" Scott Scarsdale, "Megastar" Michael Monroe and "The Mighty" Fronz Roddy when Vigo pinned Roddy.

Team R.P.G.: Ian Daniels and The Rickety Rocket beat The Savage Wolves: C.J. Scott & Damon Ravage, when Ravage kicked CJ and allowed Team RPG to get the pin.

"The Pillar" Roman Dominguez defeated Jamar "Magic" Justice

Pure Dynamite: "Bad" Brad Wesley & Chuck Deep retained the IYFW Tag Team titles over Superbeast and "Supercop" Dick Justice

The IYFW Championship match between Pierre "The Beast" Vachon and Drake Evans ended in a no contest. After the referee went down accidentally, Vigo, Roman Dominguez, Drake Evans and Pierre Vachon all got into a huge brawl. The referee recovered to see this and called for the bell. "Minister" Maxx Burton came out and made the main event for the IYFW anniversary show on November 3rd to be "The Final 4-Way." A No DQ, no countout, anything goes match for the IYFW Championship with all 4 men in the ring at the same time.
Thank you Ballston Spa, NY, for supporting the Premiere Pro Wrestling Promotion in the Capital Region! We will see you on November 3rd for IYFW 6th year anniversary show "Season 6: End Game"

Previous Event - Back to Event Results - Next Event
Sponsors:
Carbone & Carbone LLP
Attorneys At Law
518-283-1245
www.carbonelawyer.com
---