Results for Season 6: End Game - November 3, 2012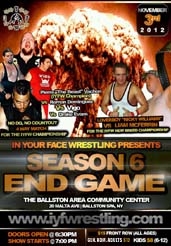 The show started with a 10 bell salute to Mike Graham, Brad Armstrong and the victims of Hurricane Sandy Ref Dan Roberts announced that he is no longer a the Senior Offical for In Your Face Wrestling. He was offered a contract to wrestle in IYFW and signed and with the approval and support of the audience. Sgt. Fury will now be a member of the IYFW roster.
Chip Stetson beat Good Lord Willing

"Millennium Millionaire" Scott Scarsdale defeated "The Ninja Warrior" Viper

"Loverboy" Ricky Williams won the IYFW New Breed title from Liam McFerran following a distraction by Scott Scarsdale. After the match, Scarsdale announced Williams as the newest member of Blood Money.

"The Wolf" C.J. Scott won the 3 Stages of Hell match against his brother, "The Savage" Damon Ravage. Damon won the first fall which was a regular match. C.J. won the second submission match and third Last Man Standing match.

The IYFW Tag Team Championship match between Pure Dynamite: Chuck Deep and Bad Brad Wesley (champions) and Team R.P.G.: Ian Daniels and The Rickety Rocket (challengers) went to a no contest when Blood Money attacked both teams.

The winner of the "Right to Fight" contract Gauntlet Match would win the opportunity to formally challenge any IYFW title holder at any time. Order of eliminations were: Jamar "Magic" Justice beat Shiloh Robinson
Justice beat Vince Beach
Guillaume deSade beat Justice
DeSade beat The Northern Studd
"The Mighty" Fronz Roddy beat deSade
Fronz Roddy beat Michael Monroe to win the match and the contract.

"The Final Four-Way" for IYFW Championship. No DQ, No Countout, anything goes:
Pierre "The Beast" Vachon retained the IYFW title over Vigo, Roman Dominguez and Drake Evans. J.P. Black, the special enforcer on the floor, took out Evans with "The Black Out Bomb." Vachon locked in the Mandible Claw on Evans giving him the victory.
Our deepest thanks to the great fans for packing the Ballston Area Community Center and helping IYFW celebrate 5 years of being the premiere wrestling promotion in the Capital Region. On to year No. 6!

Previous Event - Back to Event Results - Next Event
Sponsors:
Carbone & Carbone LLP
Attorneys At Law
518-283-1245
www.carbonelawyer.com
---