Results for "Truly Independent" - June 22, 2013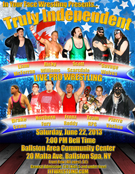 Poster by: Zeke Kubisch
The show began with the unrecognized Canadian Heavyweight Champion and Blood Money member, "Mr. Maple Leaf" Ricky Williams, taking over the opening segment, declaring that he would take the In Your Face Wrestling Championship that night. This did not sit well with the current champion, "The Mighty" Fronz Roddy who came to the ring. This ended with Williams hitting a behind the back DDT on Fronz, laying him out. Williams then stood over Roddy holding both titles. A message was clearly sent.

The Northern Studd beat "S.O.G." Ronnie Ribbs

Drake Evans defeated Etanna

The Savage Wolves: C.J. Scott and Damon Ravage defeated Team R.P.G.: Ian Daniels and The Rickety Rocket to become the new IYFW Tag Team Champions

"The Pillar" Roman Dominguez beat Sgt. Fury by submission with "The Suffoco." After the match, The Savage Wolves antagonized Sgt. Fury. Fury then invoked the title match clause he and Vigo had in their contract to take on the Wolves for the titles that night. Secretary of Event Content Yvonna Leach, made it official.

Vigo arrived at the tail end of intermission and was informed of this tag title match. He was not happy at this news.

Blood Money: "Millennium Millionaire" Scott Scarsdale & Guillaume deSade beat The Good Chip Lollipop: Good Lord Willing and Chip Stetson

Liam McFerran retained the IYFW New Breed Championship over Elite Terrell. Originally this was a non title match, but Liam asked Secretary Leach to make it a title match and she did.

The Savage Wolves retained the IYFW Tag Team titles over Northern Fury: Vigo & Sgt Fury. Secretary Leach assigned Drake Evans as a special referee. In this high drama match, Vigo threw in the towel in when the Wolves were relentless in their attempts to injure Sgt. Fury's shoulder which was severely damaged earlier in the night against Dominguez. Evans had no choice but to stop the match and allow The Savage Wolves to keep the belts.

"The Mighty" Fronz Roddy retained the IYFW Championship over "Mr. Maple Leaf" Ricky Williams with the Aus Crusher. Scarsdale and deSade attempted to interfere but Roddy proved quite resilient in thwarting their efforts.
An intense night that can only be described as awesome. IYFW returns to Ballston Spa, NY on Saturday, September 21st for the Annual Coronation Cup Event. This year the Coronation Cup Tournament was announced to be a tag team tournament, with the winners becoming the #1 contenders for the Tag Team Championships

Previous Event - Back to Event Results - Next Event
Sponsors:
Carbone & Carbone LLP
Attorneys At Law
518-283-1245
www.carbonelawyer.com
---