Results for "May The Fourth Be With You" - May 4 , 2013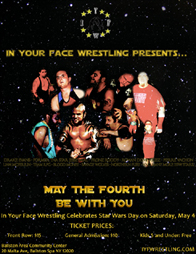 In Your Face Wrestling celebrated Star Wars day and Free Comic Book day with "May the Fourth Be With You!
The IYFW Tag Team Champions Team R.P.G.: Ian Daniels and The Rickety Rocket beat The Stormtroopers of Death in a non-title match.

IYFW New Breed Champion Liam McFerran, with Drake Evans in his corner, defeated Kyller Jones, with J.P. Black in his corner to win The Padawan Match.

"The Wolf" C.J. Scott beat Elite Terrell with a package piledriver. He would then demand Senator Yvonna Amidala to find him another opponent. She would bring out Drake Evans.

"The Wolf" C.J. Scott defeated Drake Evans with an assist from J.P. Black who distracted the referee and allowed Scott to knock out Evans with a club. After the match, J.P. covered the unconscious Evans and forced the ref to count 3.

The tag match between The Fallen: ShadoKat & Deacon Sot w/ Mirage and Northern Fury: Vigo & Sgt. Fury became "The Kessel Run", a 2 out of 3 falls match, when Northern Fury envoked a clause in their contract where they could add any stipulation they wanted to any of their matches. Northern Fury would win the first fall, The Fallen would take the 2nd, and Northern Fury would take the 3rd, winning the match.

Blood Money: Scott Scarsdale, Ricky Williams and Guillaume deSade, representing Star Trek, would defeat The Northern Studd, Good Lord Willing and Chip Stetson when Ricky Williams pinned The Northern Studd.

Drake Evans beat Jesse Neal with a rollup. Neal's scheduled opponent, Pierre Vachon, could not make the event. During intermission, the former TNA star had challenged Drake because he wanted to take on the best in IYFW. After the match, we saw a great show of respect by both men.

The IYFW Championship match between "The Pillar" Roman Dominguez and IYFW Champion, "The Mighty" Fronz Roddy ended in a double countout. Neither man was happy with his decision.

The Northern Studd won the Mos Eisley Cantina Rumble by eliminating "Mr. Maple Leaf" Ricky Williams. After the match, Sen. Yvonna Amidala presented him with his award, the Medal of Yavin.
IYFW thanks all the great fans who shared the in fun and excitement of this show. IYFW will be back at the BACC on June 22nd.

Previous Event - Back to Event Results - Next Event
Sponsors:
Carbone & Carbone LLP
Attorneys At Law
518-283-1245
www.carbonelawyer.com
---