Results for Memories, Moments & Mayhem Convention and Event: March 16, 2013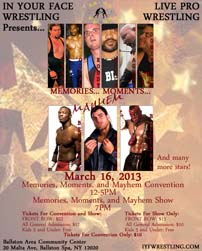 Poster by Jamar Anderson

Watch the entire event on VOD for $5
IYFW fans were treated to the first ever "M3Con" during the afternoon. A wonderful experience for everyone involved. Results from the "Memories, Moments and Mayhem" event:
Team R.P.G.: Ian Daniels & The Rickety Rocket w/ Lindsay Lynn retained the IYFW Tag Team Championships against Pure Dynamite: "Bad" Brad Wesley & Chuck Deep.

"The Millennium Millionaire" Scott Scarsdale beat The Nothern Studd

Good Lord Willing defeated Etanna with a hypnotic assist from The Boogeyman

8-Man Elimination Match of Survival - Team Do or Die: The Savage Wolves, Kyller Jones & Josh Jordan w/ J.P. Black vs. Team Evans: Drake Evans, Northern Fury & Jamar "Magic" Justice.
Order of Elimination:

Drake Evans was disqualified
Jamar "Magic" Justice beat Kyller Jones
Damon Ravage eliminated Justice
Vigo beat Ravage
C. J. Scott & Vigo were both counted out
Sgt. Fury defeated Josh Jordan winning the match for his team

C.J. Scott ran back out with the other Team Do or Die members and took out Fury. Evans's team were able to chase them off before more damage was done. Evans may have won this battle, but the war is still on.

Liam McFerran defeated "Mr. Maple Leaf" Ricky Williams to reclaim the IYFW New Breed Championship

"The Shaft" Bobby Ocean was introduced for his match, but it never got started because Pure Dynamite took over the segment, berating Ocean on the mic, then attacking him. Ocean would try to fight back, but the 2-on-1 odds were against him until The Boogeyman came out. Deep and Wesley made like they were softening up Ocean for him, but Boogeyman had other plans. He grabbed both men and he and Ocean laid both of them out. "Bad" Brad Wesley was the recipient of a mouthful of worms.

Pierre "The Beast" Vachon vs. Nunzio ended in a DQ when Nunzio got caught holding a pair of knucks that Vachon brought into the match. After the match, Nunzio laid out Referee Tony Constantino with "The Maritato." Then Nunzio called a young fan into the ring to count three while he pinned Constantino.

"The Pillar" Roman Dominguez and Co-holder of the ROH World Tag Team Championships, Bobby Fish, beat In Your Face Wrestling Champion, Fronz Roddy and Shelton Benjamin when Dominguez submitted Roddy with "The Suffoco."
A standing room only crowd made this evening an incredible night for everyone involved. IYFW will be back in Ballston Spa, NY when it celebrates Star Wars Day: "May the Fourth Be With You" on May 4th, 2013.

Previous Event - Back to Event Results - Next Event
Sponsors:
Carbone & Carbone LLP
Attorneys At Law
518-283-1245
www.carbonelawyer.com
---