Results for Memories, Moments & Mayhem - March 15, 2014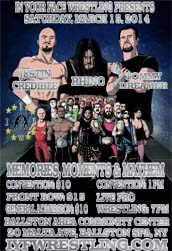 Poster by Doug Hills
The Northern Studd won a 4-way Collision by pinning Lance Madewell. This match also featured Ronnie Ribbs and Elite Terrell.

Prince Ashaul-Naul and Dex Chase beat Good Lord Willing and the debuting Lenn Oddity with Bonnie when The Prince pinned Willing.

Jamar Justice and Gabriel Soul were introduced as the new members of Blood Money and defeated Team R.P.G.: Ian Daniels & The Rickety Rocket

Kenny of The Spirit Squad won his impromptu match with "Mr. Canada" Ricky Williams by DQ

"The Mighty" Fronz Roddy won the "Flexor on a Pole" match over "The Lord of Lats" Chuck Deep.

Northern Fury: Vigo & Sgt. Fury defeated The Savage Wolves: CJ Scott & Evan Fellows to become the new In Your Face Wrestling Tag Team Champions.

"The Pillar" Roman Dominguez retained the IYFW Championship over Liam McFerrin.

Team ICON (Tommy Dreamer, Rhino, & Bobby Ocean w/Drake Evans) won the 6 man Elimination Match of Survival over Team Legendary (Justin Credible, Chip Stetson & Pierre Vachon after a gore from Rhino on Chip Stetson, who were the last of their respective teams, and Rhino called Drake Evans in the ring to get the pinfall on Stetson.
A sold out, standing room only Ballston Area Community Center witnessed the greatest night in Capital Region wrestling history and IYFW was proud to be the promotion to do it. Thanks to Tommy Dreamer, Rhino, Justin Credible, and Kenny Dykstra for being a part of it.

Previous Event - Back to Event Results - Next Event
Sponsors:
Carbone & Carbone LLP
Attorneys At Law
518-283-1245
www.carbonelawyer.com
---