Results for "Show #42: Life, The Universe & Everything" - May 18, 2014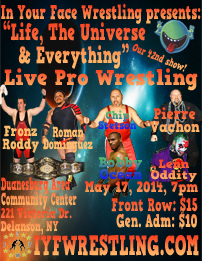 "Volcano" Mike Johnson beat The Schoharie Assassin

The Northern Studd & Liam McFerran beat The E-Z Riders: Krieger & Beetle

"Mr.Canada" Ricky Williams defeated "The Shaft" Bobby Ocean in the Title-for-Title match to win the In Your Face Wrestling New Breed Championship.

"The S.O.G." Ronnie Ribbs made "The Anarchist" Ian Daniels submit to "The Confessional"

Good Lord Willing w/Sir Lancelot Madewell, won the "Throw in the Towel" match against Prince Ashaul-Naul when Ronnie Ribbs threw in the towel on his behalf.

"The Wolf" C.J. Scott defeated "Tattooed Ugly" Lenn Oddity with a Package Piledriver

"The Mighty" Fronz Roddy beat The IYFW Champion "The Pillar" Roman Dominguez, by disqualification. Special guest referee Drake Evans stopped the match when Dominguez would not relinquish "The Suffoco."

"The Legendary" Chip Stetson & "Mr. Canada" Ricky Williams defeated The IYFW Tag Team Champions Northern Fury: Sgt. Fury & Vigo in a non-title match when Stetson used brass knuckles to knock out Vigo and pin him.
Previous Event - Back to Event Results - Next Event
Sponsors:
Carbone & Carbone LLP
Attorneys At Law
518-283-1245
www.carbonelawyer.com
---