Results for Coronation Cup 2014 - June 28, 2014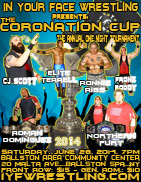 Walter Ball introduced his co-host for the evening "Tattooed Ugly" Lenn Oddity.
The In Your Face Wrestling Champion "The Pillar" Roman Dominguez, came to the ring to accuse Secretary Yvonna Leach for keeping him off the show and holding him back from being showcased in the main events. Sec. Leach came out to deny the accusations and that the NYSAC doctor decided not to allow Dominguez to wrestle. Dominguez would leave but shows that this situation is not going to be over anytime soon.
The first 4 matches were the quarter finals for the Coronation Cup Tournament:
Elite Terrell beat Dex Chase to advance.

"The S.O.G." Ronnie Ribs submitted Lance Madewell with "The Confessional" to advance.

Prince Ashul-Naul and Ian Daniels went to a draw when both men were counted out. Neither man advanced in the tournament.

"The Wolf" C.J. Scott defeated "The Mighty" Fronz Roddy. after using a foreign object. C.J. advanced directly to the finals due to the previous match ending in a draw.

Liam McFerrin came out alone to take on The Knockout Gang: Jamar Justice and Gabriel Soul, due to his partner not appearing. McFerrin requested a handicap match. Sec. Leach said no and that Liam had to find a partner. McFerrin stated he felt that would be her response and had a partner lined up.........the returning "IYFW ICON" DRAKE EVANS. McFerrin and Evans beat Justice and Soul when Jamar submitted to a crossface hold. After the match, "The Legendary" Chip Stetson appeared in shock to see Evans return.

Elite Terrell won the Semi Final match in the tournment over Ronnie Ribs when Ribs was disqualified.

Eric Emanon beat "Must See" Tyler Vincent.

Elite Terrell defeated "The Wolf" C.J. Scott to become the 2014 Coronation Cup winner. Terrell is now the number one contender to the IYFW title.

Northern Fury: Vigo & Sgt. Fury retained the IYFW Tag Team Championships over "Mr. Canada" Ricky Williams and "The Legendary" Chip Stetson in a No DQ match. One of the most hardcore matches in IYFW history.
Our thanks to the tremendous audience for the continued support. IYFW returns to the Duanesburg Area Community Center in Delanson, NY on Saturday, August 9th.

Previous Event - Back to Event Results - Next Event
Sponsors:
Carbone & Carbone LLP
Attorneys At Law
518-283-1245
www.carbonelawyer.com
---