Results for "VIP: Victory Influences Position" - August 9, 2014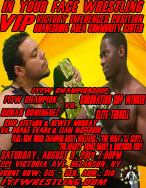 The Rickety Rocket won the "Right to Fight Contract" Gauntlet match by pinning his Team R.P.G. partner, Ian Daniels. This match also included Damon Ravage, Tyler Vincent, Lance Madewell, Dexter Chase and Good Lord Willing.

"Mr. Canada" Ricky Williams retained the In Your Face Wrestling New Breed Championship against Maximo Suave in a hard fought match.

Lenn Oddity was introduced to give everyone a status on his injury. He stated he has some severe damage that will be putting him out of action until next year. Lenn would also make accusations that no one in IYFW seems to care about how he is doing. This brought Sgt. Fury and Vigo out to emphatically deny those allegations and tried to convince Lenn that the fans and the roster do indeed care. This was a highly emotional part of the evening that would culminate with Northern Fury asking him to accompany them to the ring for their Tag Team title match later on. Lenn showed some slight hesitation at first but would ultimately accept their request.

LaDiva defeated Jamie Ames

The Knockout Gang: Jamar Justice and Gabriel Soul w/ Ricky Williams became the new IYFW Tag Team Champions by defeating Northern Fury: Vigo & Sgt. Fury when Lenn Oddity turned on Sgt Fury, thus leading to his defeat.

"The Wolf" C.J. Scott beat "The Mighty" Fronz Roddy after two package piledrivers.

Dewey Lee Murray and "The Legendary" Chip Stetson beat Liam McFerran and "The IYFW Icon" Drake Evans when Stetson hit McFerran with a cowbell behind the referee's back and Murray got the pin. After the match, Drake Evans made a final challenge to Stetson for a 1-on-1 match. Stetson agreed only if it was under his terms. Stetson then stated he would only wrestle Evans if it was a STEEL CAGE Match. Evans quickly accepted and that match has been signed for the IYFW Anniversary show on November 15th in Delanson, NY at the DACC.

"The Pillar" Roman Dominguez retained the IYFW Championship over 2014 Coronation Cup Winner Elite Terrell, with "The Suffoco" in a controversial decision.
Thanks go out to the fans in the Delanson/Duanesburg/Amsterdam area for another great night of IYFW action.

Previous Event - Back to Event Results - Next Event
Sponsors:
Carbone & Carbone LLP
Attorneys At Law
518-283-1245
www.carbonelawyer.com
---