Results for "Season 9: Proving Grounds" - November 7, 2015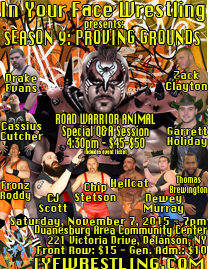 Roman Dominguez & Salvatore Morocco defeated Sabastian Kelly & Kameron Yates

Elimination Match of Survival: Jamar Justice, Gabriel Soul, Axel Lennox & Mattick defeated Zane Maverick, Vince Valor, Maximo Suave & Rickety Rocket. Mattick was the sole survivior.

Kenedi Copeland ordered Yvonna Leach to the ring, who arrived accompanied by Hayley Shadows. Copeland again pressed Leach in regards to her business dealings with Scott Scarsdale, to which Leach took great offense. Copeland announced that Road Warrior Animal would be the guest commissioner for the night, and they would be keeping an eye on all the action throughout the night. Leach did not take well to this additional oversight to her own authority, and Shadows responded with shoving Copeland to the mat.

Damon Ravage defeated Dewey Murray to retain the New Breed Championship

Zack Clayton and Garrett Holiday went to a double count out. Following the count out, Clayton and Don Adams both attached Holiday, severely injuring his arm.

In the Loser Leaves Wrestling street fight, CJ Scott defeated Fronz Roddy in a match involving several chairs, chain, and one of the security barricades. Following the match, the entire IYFW locker room exited to give Fronz Roddy a proper send-off.

Indy Card Mafia: Eric Emanon & Thomas Brewington vs. Northern Fury: Vigo & Sgt. Fury went to a time limit draw

Elimination Match of Survival: Elite Terrell, Ron and Jordan Falco, Rex Atkins and Lenn Oddity defeated Ricky Williams, Trip, Benjamin Blackwell, Jimmy Jact Cash & Surma. Elite Terrell and Jordan Falco were the sole survivors

Chip Stetson & Hellcat defeated The Homewreckers: Jet Rebel & Anthony Gaines to retain the IYFW Tag Team Championship

Drake Evans defeated Cassius Cutcher to retain the IYFW Championship. Special guest referee Scott Scarsdale appeared to have an eye injury, which allowed the Indy Card Mafia the chance to attack Evans. Following the attack, Cassius pinned Evans, and Scarsdale declared Cutcher the winner and new champion. However, guest commissioner Road Warrior Animal reversed the decsion, and ordered Chip Stetson, Hellcat, Fronz Roddy and Kennedi Copeland to clear the ring of the ICM. Roddy set up Cutcher for Evans to hit the Doomsday Device, and replacement referee Tony Constantino made the count, and Evans retained the title.
Previous Event - Back to Event Results - Next Event
Sponsors:
Carbone & Carbone LLP
Attorneys At Law
518-283-1245
www.carbonelawyer.com
---