Results for "We Stand Alone" - January 16, 2016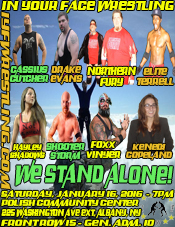 Jason Savior defeated Aftershock

CJ Scott defeated Kameron Yates after Kameron answered an open challenge

Zane Maverick defeated Zack Clayton w/Don Adams

Foxx Vinyer defeated Shooter Storm w/Aubrey St. John, following Shooter and Aubrey's "Jerry Springer reunion"

Damon Ravage defeated Dewey Murray, Lenn Oddity and Jimmy Jact Cash to retain the New Breed Championship. The Indy Card Mafia again targeted Lenn Oddity in this match, and Damon Ravage got the pin on Dewey Murray.

"Five More Minutes" Rematch: Indy Card Mafia: Thomas Brewington & Eric Emanon w/Mirage defeated Northern Fury: Vigo & Sgt. Fury

Foxx Vinyer won the Battle Royal to become the #1 contender to the New Breed Title

Hayley Shadows w/Indy Card Mafia defeated Kenedi Copeland

Chip Stetson defeated Mattick. Ryan Cassidy, and Hurricane Boricua

The Pantheon: Roman Dominguez & Sal Morocco defeated Sabastian Kelly & Axel Lennox. Lennox abandoned Kelly, allowing The Pantheon to get the win. Kameron Yates came to the ring to meet Kelly, but Kelly turned on him and beat him down. Kelly left the ring at the side of Dr. Philip Basket.

Elite Terrell was slated to challenge Drake Evans for the IYFW Championship, but Secretary of Event Content Yvonna Leach had different plans, saying Terrell did not hold any official contendorship to the title. She declared this would now be a tag match between Terrell and Evans facing Indy Card Mafia member Cassius Cutcher and Mr. Canada Ricky Williams. Emanon and Brewington couldn't leave well enough alone and got involved in the match, but Evans brought in Chip Stetson and Lenn Oddity as backup. Fed up with the Indy Card Mafia, Evans announced that these feud would be ended once and for all at Memories, Moments & Mayhem. Evans, Stetson, Oddity and Terrell would face the Cutcher, Emanon, Brewington and Williams. But Evans had one more surprise in store: he announced that in their corner at Memories, Moments & Mayhem would be none other than WWE/WCW legend Kevin Nash.
Previous Event - Back to Event Results - Next Event
Sponsors:
Carbone & Carbone LLP
Attorneys At Law
518-283-1245
www.carbonelawyer.com
---