Results for The Brass Ring: November 12, 2011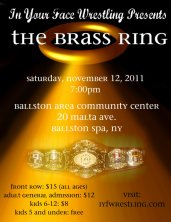 Poster by Julia Christopher
Nocturne defeated the debuting Kyller Jones with a Package Piledriver.

Good Lord Willing returned and put out an open challenge which was answered by The Rickety Rocket. Willing then explained the challenge was not against him, it was against his new acquisition, Etanna. Etanna won the match with a splash in under a minute.

Liam McFerran continued his winning streak with a win over WAR. WAR got the last laugh, locking in a submission on McFerran after the match.

Minister Maxx Burton came out and called out Roman Dominguez, Drake Evans and Vigo to reveal who the No. 1 contender to the In Your Face Wrestling championship was. A curious Pierre Vachon, current IYFW Champion, came to ringside to hear the news as well. Burton told all three that none were the next contendor. He instead made a tag match, Roman Dominguez and Pierre Vachon against Drake Evans and Vigo, where if Dominguez, Vigo or Evans got the win, they would get the No. 1 spot. But if Vachon won, all three would be out of the running.

In the end as Vachon and Vigo fought on the floor, Evans hit the Tiger Driver on Dominguez for the win. Drake Evans is now the No. 1 contender to the IYFW title.

The Savage Wolves: "The Wolf" C.J. Scott & "The Savage" Damon Ravage faced Ian Daniels and The Rickety Rocket in a tag match where Ian brought a hesitant Rocket out as his partner. A highly competitive match that saw the Wolves get disqualified by referee Dan Roberts. C.J. Scott and Damon Ravage then took out the referee, Rocket and Daniels, left them all laying and proceeded to take items from them as trophies, including Roberts's military dog tags.

"Millennium Millionaire" Scott Scarsdale defeated "Bombshell" Bert Williams with The Jackpot

Elimination Match of Survival: IYFW New Breed Champion Fronz Roddy teamed with IYFW Tag Team Champions The Enemy: Adam Badger & Michael Monroe against The Uprising: Shiloh Robinson, "Loverboy" Ricky Williams & Jamar "Magic" Justice

Order of Elimination:

Shiloh Robinson was pinned by Michael Monroe after a Superkick.
Fronz Roddy and Ricky Williams were both counted out
Adam Badger was disqualified by taking a championship belt and whipping Jamar's rehabilitated ankle.
Jamar Justice pinned Michael Monroe, winning the match

Per the stipulation, Jamar Justice & Ricky Williams have earned a tag title shot and Shiloh Robinson has earned a New Breed title shot.
A great crowd to go with a great show. This was IYFW's last event of 2011 and we thank all the great fans once again for their continued support. We will see them in 2012.

Previous Event - Back to Event Results - Next Event
Sponsors:
Carbone & Carbone LLP
Attorneys At Law
518-283-1245
www.carbonelawyer.com
---