Results for "The St. Patrick's Day Massacre": March 17, 2012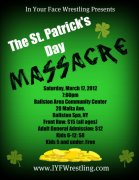 Poster by Julia Christopher
Vigo, Nocturne and The Rickety Rocket defeated "The Real" Robert Coleman and Pure Dynamite

Ian Daniels beat Good Lord Willing in the European Ladder Match

"Megastar" Michael Monroe defeated The Northern Studd

Shiloh Robinson was injured while wrestling "The Mighty" Fronz Roddy for the In Your Face Wrestling New Breed Championship and could not continue. Roddy was forced to defend the title against another challenger due to his not appearing at the January show. That challenger would be Liam McFerran. McFerran defeated Fronz Roddy to win the title.

After the match Roddy was informed that a special guest will be coming to the "Memories, Moment and Mayhem" event on May 18th specifically to face Roddy and that man is Val Venis. Roddy was shocked to hear this news.

The Savage Wolves were informed by Minister Maxx Burton that due to the stipulation laid out by IYFW Management, they would be wrestling each other and the winner would be back in IYFW whereas the loser would be gone. Damon did not want to do it and felt they should leave. C.J. had different plans. In the end, "The Wolf" C.J. Scott beat his own brother "Savage" Damon Ravage.

"Millennium Millionaire" Scott Scarsdale brought out the new member of Blood Money, Michael Anthony. They defeated the IYFW Tag Team Champions The Uprising: "Loverboy" Ricky Williams & Jamar "Magic" Justice in a non-title match. There is some speculation on whether the referee had been paid off by Blood Money due to some blatant illegal tactics from Anthony. An investigation is pending.

"The Pillar" Roman Dominguez and Drake Evans battled to a double countout.

Pierre "The Beast" Vachon retained the IYFW Championship by beating "The Shaft" Bobby Ocean by submission with the mandible claw.
The building was packed and the show was off the hook. Thank you again to all the great fans in the Capital Region of NY. Next stop is Amsterdam, NY for "Memories, Moments and Mayhem" on Friday, May 18th.

Previous Event - Back to Event Results - Next Event
Sponsors:
Carbone & Carbone LLP
Attorneys At Law
518-283-1245
www.carbonelawyer.com
---